TRUSSWRAPS™
Trusswraps™ are the newest creation from designer Bernie Gaps. Being in the Special Event industry, he had witnessed many lighting companies struggle to effectively cover aluminum trussing. Worse yet, many trusses were never covered, when they should have been (think beautiful elegant white wedding with bare truss and instruments).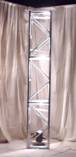 Trusswraps™ are typically installed on upright trusses that are mounted on base plates, either individually, or as part of an arch, cube, or other structure. Par cans placed inside create a beautiful glow.
These wraps are constructed with machine washable fabric and Velcro™ strips sewn from top to bottom for ease of installation and strike. They are available in black, white, or 15 other colors.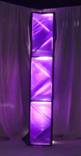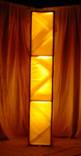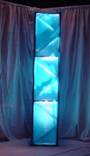 EASY INSTALLATION
Less than 30 seconds
INHERENTLY FR (IFR)
Meets NFPA 701
WIDE COLOR SELECTION
Black/White/15 Colors
ALL SIZES & STYLES
12" & 20" Box Standard
REUSABLE
Secures with Velcro
LONG PRODUCT LIFE
Machine Washable
Be sure to check out other exciting products:
Lighted Tables, Bars, & Centerpieces
Fabric Panels, Spandex Linens & Chair Covers
at our website: www.absofab.net